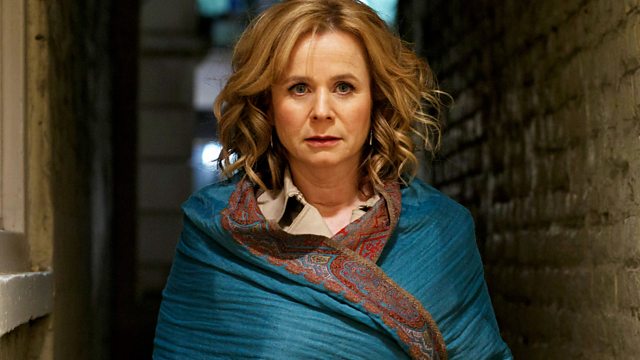 The end came close to spoiling this excellent TV series. The fact it didn't says more about the series as a whole than two minutes of television frippery. Throughout the four episodes, each one of which I looked eagerly forward to viewing, the tension was neatly layered drawing the audience in, mounting tension - sexual and psychological, teasing our intellect.
Emily Watson as Yvonne Carmichael provides a perfect performance as the cool, calculating Doctor of science. She is the limpid pool of which Zen and Tao practitioners practise to be. Nothing appears to ruffle those waters. Her marriage the absolute epitome of liberal intellectualism. Extra-marital sex is not a thing that requires instant divorce but a subject to be discussed AND with mutual understanding. This is a lady, if not in total control of her life, has her hands firmly on the wheel of her own destiny.
Ben Chaplin as Mark Costley deceives us all into thinking what a sincere gentleman, if a little perverse, he really is. Attentive, caring and somewhat of a super stud in the sex department. Notably performing a penny upright in public places.
Having given a presentation to members of the House of Commons Yvonne inadvertently bumps into a mystery man (Ben Chaplin) who witnessed her performance. He asks if she'd like a guided tour of the secret Chapel of St Mary Undercroft which lays underneath the House of Commons. The couple visit the chapel which Yvonne finds beautiful before Mister X (he does not at this point reveal his name) suggest they take a peek at the cupboard in which suffragette Emily Davison once hid. Inside, as the two marvel at the courage of Emily Davison, their eyes meet, a certain frisson ignites between the two of them and they end up having sex. So starts an illicit relationship.
Then, at a party with colleagues, Yvonne is offered to share a taxi home with George Selway who suggests they go to his office to collect his coat and things. Once in his office, Selway brutally assaults Yvonne before raping her.
She does not inform her husband of what has transpired for fear that Selway might reveal her affair and the nature of their couplings. Instead, she turns to Mister X. A grave mistake as it turns out. He gets her to drive him to Selway's home where he kick's him to death. Unfortunately, for her, she is witnessed in the car and is therefore seen as his accomplice.
The court case that follows aptly and accurately describes how unbalanced the law is when it comes to female cases of homicide. For murder is what Yvonne is charged with not Mark Costley. His plea for diminished responsibility is taken seriously. The law is set somewhere back in the forties when it comes to judging female cases. All manner of evidence is unearthed and flung at the defendant who does her best in telling the truth. The truth though is not what the prosecution is interested in. They want her hide nailed to the door.
The rape scene is as horrible as a rape scene should be. It's depiction realistic and disturbing. Violent. Brutal. Uncompromising. The journey home in the cab is chilling. The fear and trembling of the raped, the smug smile on the face of the rapist inferring 'you enjoyed it really.' The whole thing made me feel uncomfortable, guilty simply of being male.
Having seen a marriage free-falling into some sort of limbo it was touching to see how husband, played by Mark Bonnar, Gary steadfastedly stands by his wife.
Yes, a great story from Louise Doughty (from the novel of the same name which I haven't read). And a great TV series. Shame about that two minutes at the end.
.
.
.
Russell Cuts the Corn From The Brewers Whiskers.