"Can You Hear Me Mother?"
Apart from the above poster bearing such a comical image, there is also a series of questions it poses from the modern day viewer. For one, who the hell is Sandy Powell? Second, was there really a film called "All At Sea?" And thirdly, who on earth were Jimmy Kennedy and Michael Carr?
Sandy Powell had roots that went deep into the music hall tradition. Born in Rotherham, South Yorkshire in 1900 (January 3rd as it happens) he owed his first break, his foot-up to the footlights as it were, to his dear old mum Lily Le Maine (very possibly not her real name.) Christened Albert Arthur Powell, Sandy being a feature of his hair colour rather than the area he was conceived or born in, the young chose to have Sandy as his forename rather than Albert. Understandable really when you think of it. Not particularly cool to someone of my vintage, I mean Elvis or Dylan would have struck a certain chord, but better than Bert or Albert.
As part of his routine, Sandy would wear a kilt whilst pretending to be a Scottish comedian. I am unsure why? Was being funny as an Englishman not sufficient or was this a case of Imperial Britain having a laugh at the Scotish expense? I'd like to think not.
Sandy had some success as a recording artist making something like eighty-five 78rpm records. These were released between 1929 and 1942. The deal was hardly great but then again, in those days, it was all about the contract and the man managing the artist rather than the artist making money for himself which the manager then had a percentage of. At a penny-a-side Sandy would have made £60,000. Good money then but hardly anything like the money you might make now. Mind you he did sell half-a-million copies. Not bad eh?
It wasn't until the 1930's that Sandy, whilst working on the radio, introduced his catchphrase "Can you hear me mother" it was to follow him to his grave.
Sandy died at age 82 having insisted he had been suffering from bad indigestion for a number of days. A heart attack killed this popular entertainer on 26th June 1982. A fading memory now perhaps but a man who made a great many people laugh until they cried.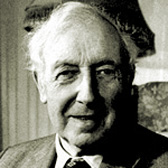 Jimmy Kennedy is a name that should be writ large upon the world of songwriting for he was a songwriter of great talent only being beaten into second place by Lennon and McCartney as the biggest selling Irish or British songwriter in the good old US of A.
His hits should ring a bell but if they don't then the bell you listen to is the wrong one. "Barmaids Song," "Red Sails in the Sunset," "South of the Border" (down Mexico Way don't you know!), "We're Going to Hang out the Washing on the Siegfried Line," "The Isle of Capri," "Teddy Bears Picnic" ("If you go down to the woods today you're sure of a big surprise"), "My Prayer," and of course the "Hokey Cokey."
He was born in Northern Ireland on 20th July 1902 near Omagh. Now when I say songwriter, I guess what I really mean is a lyricist. Yes, he occasionally composed the music too but he predominately wrote the words for someone else to write the tunes too.
In a career the lasted more than fifty years he wrote a staggering 2,000 songs. That alone is an incredible achievement.
Now of the many creative partnerships Jimmy had none were much better than the one he shared with Michael Carr.
Maurice Alfred Cohen, or Michael Carr as he liked to be known, was born in Leeds on 11th March 1905. His father, Morris "Cockney" Cohen, was a boxer and cabinet maker. A man capable of knocking a man down before knocking a piece of furniture up. Michael's mum was Irish and as a child, his family moved to Dublin where he grew up.
The partnership of Kennedy and Carr or, if you prefer, Carr and Kennedy is one remembered as being not only prolific but also one that crossed many genres. Their songs may seem dated now but remain classics all the same.
.
.
.
Russell Cuts the Corn From The Brewers Whiskers.