The BFG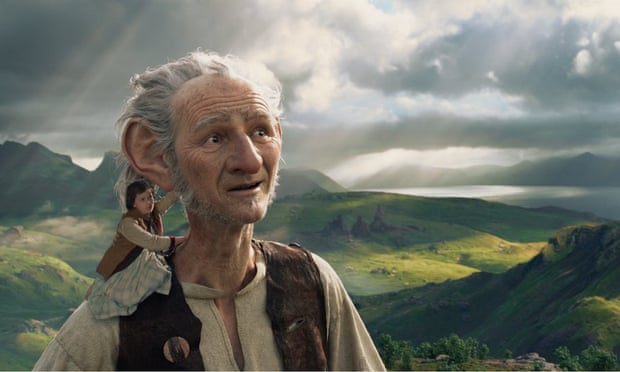 Roald Dhal combined with Steven Spielberg should pave the way for one hell of a good movie but should 'don't' necessarily means does but in this case, you'll be glad to know, it most certainly hits all the right spots.
Spielberg is the master of mixing humour with fear filled elements. This talent is a prerequisite to anything written by Roald Dhal who's ability to merge the monstrous with the monstrously funny was, and remains, as close to genius as it is possible to get. When Dhal makes with death he never was at pains to make it any less real to his audience of children. When the giants set out to capture then eat young Sophie (as played by Ruby Barnhill) their murderous intent is very real, very real indeed.
Mark Rylance's performance as the BFG is flawless. As Morse was best portrayed by John Thaw, Poirot by David Suchet and Sherlock Holmes by Jeremy Brett, so our Friendly Big Giant belongs now and forever to Mark Rylance. The actor spreads the audacious language as created by Dhal with gusset ripping delight. I mean, who could resist such divine phrases as "
a little squiggly", "hippodumplings" "tellytelly bunkum boxes," or, and my personal favourite, "Whizzpopper."
The scene where Sophie and the BFG meet the Queen before being invited in to dine is priceless. When liberal amounts of "Frobscottle" are poured out for all the gathered to drink we in the audience watching the film are given views to some of the greatest hilarity seen in a long while. Corgis, having drunk a belly full of the magical cordial are seen blowing off then bouncing about the dining room as though they were firecrackers set off on bonfire night. So to all the military men and servants as the fly into the air like skyrockets. But it is the Queen (as played by Penny Wilton) who steals the scene as she lets rip making the linen table cloth billow like a sail in a lusty storm.
Great film. Squid gives it Four stars.
Bridget Jones's Baby
I tend to forget 'Bridget Jones - The Edge of Reason' not because it was a bad flick as such, more because the previous film, 'Bridget Jones's Diary' was so damn funny. It is sometimes hard to follow something quite as good as the first of anything, take the Stone Roses eponymous first album, the second simply wasn't as good.
Here though things are vastly different. Here we have a forty-something Bridget, no longer fat, not longer attached to Marc Darcy and now with a successful career, at a loss, but desperately trying to hide it, as what to about her love-life, or, to be more accurate, lack of one. Fuck-a-doddle. The girl needs a good shagging.
After attending the funeral of Daniel Cleaver (Hugh Grant) where, having been invited to say something about the deceased and in front of a congregation half made up of the passed aways female conquests, utters these immortal lines, 'well, girls, I think it right to say we were all touched by Daniel.'
At the same funeral, she spots the one-time love of her life with his wife. In actual fact, Marc Darcy is separated from his wife and has only brought her along to keep up appearances.
Now a successful television producer, one still in need of a good rogering, Bridget accepts her anchors (as played by Sarah Solemani) invite to attend a rock festival. Bridget goes dressed in a white jumper, terribly short jeans and high heels. Possibly not the best style for an event held in a boggy field. She is literally pulled out of the quagmire by the waist of her jeans by Jack Qwant who, we later learn is a billionaire. Later, having got as pissed as the proverbial,and having lost both her friend and her way, Bridget stumbles into what she believes is her friend's tent. Mumbling away to her friend who she thinks is lying in bed waiting for her, and says something along the lines of how right her friend was in the that she really need a good shafting. Her surprise when Jack looks back at her suggesting he might be able to help in that area is golden.
However, she leaves early next morning knowing insufficient about her one-night-stand only to bump into Marc Darcy four days later. And guess what? Yep, the two sleep together. The problems start a short time later when she discovers herself putting on weight and when a friend asks if she used protection, is nonplussed to find the condoms she used were twelve years past their sell by date.
This is a rowdy, bawdy, genuinely funny rom-com. Emma Thompson, who helped write the film, writes herself a part and steals the whole film.
Well, worth watching. Squid gives it four stars.
Mrs Peregrine's Home for Peculiar Children
Now this, at least for me if not my favourite third born, is where the crackling hits the plate. This seesTim Burton reach the heights of his directorial skills. This melts the chocolate button before it leaves the packet. This is a film I could watch over and over again and here is why.
There is the girl who lifts incredible weights. The boy who houses bees within him. The girl that makes things grow to incredible sizes. The boy who wear clothes so you know he's there. The girl who wears led-weighted shoes so she won't float away. The boy who can bring things to life even if only briefly. And then there is Miss Peregrine herself, an able woman who is able to manipulate time and, as a
Ymbryne can shape change into a peregrine falcon.
But there is more. Granddad, that is Abe Portman, just loved to tell his grandson Jake tall story's, filling his head with all kind of fantastical things. Jake's mum and dad never approved of course by parents often disapprove of their own parents for reasons too difficult to explain. However, the tales told by granddad Abe were not tales at all but truths related to his grandchild. Then, something bad happens and it happens to granddad.
Jake get a summons from Abe saying he must return home quickly. This Jake does.
Jake finds his grandfather's dying with his eyes plucked from his head, in his final passing Abe tells Jake to find "the bird, the loop and September 3, 1943", before dying.
Jake takes off to find this mysterious bird, the loop and the time the whole shebang takes place. When he arrives he meets not yet another Harry Potter type set of characters (this is nothing like those films) but individuals more likely to have lived in that other infamous house for 'gifted youngsters' Charles Xaviers mansion in Westchester. But again, this is no superhero flick. The only similarity this film shares with Harry Potter is that it is a fantasy whilst the X-Men are, possibly Sci-Fi.
Plot spoilers put unwanted spokes into truimphant wheels and this particular wheel is far to could for a jerk like me to spoil. To quote Stan Lee (he of the Marvel way of doing things) 'Nuff said. This film will delight all those who enjoy Dhal, Rowling, Pratchett, Gaiman et al.
Squid gives it three stars (I give it four)
.
.
.
Russell Cuts the Corn From The Brewers Whiskers.