"Does my head look big in these?"
Long time fans of Robert Fripp will, of course, have seen their monster rock guitarists duck walking across the boards, shirt unbuttoned to the waist, chest tanned, oiled and well muscled, right arm windmilling furiously, face creased into extremes of passionate frescos before leaping up on high scissor-kicking his legs in electric circumference then driving his 'bitch' into the throbbing amps. He is the star of his own making. Known for his caustic wit, his instant retorts, his acerbic comments on fellow musicians, the monarchy and members of the Women's Institute. Fripp is the complete Rock guitarist.
Not all is golden on his pond, though. When fame and fortune alluded him he bedded that wanton hussy of a pop star Toyah Wilcox, shoving his carpet slippers beneath her duvet, his Jim jams under her pillow, all for the desire for greater acceptance in the hoary spotlight of Rock God status. What he wants he gets. He wanted that girl and he got her. No sitting on the sidelines accepting lame tributes of his being a founding father of Prog. No ridiculous, penny pinching accolades of how influential his work has been. No playing on other artists albums or producing their hits. Basking in the limelight was/is his raison d'etre.
I first heard Mister Fripp when a friend and I skipped school. He, the friend not THE Fripp, suggested I should listen to a track by relative newcomers to the scene man, King Crimson entitled '21st Century Schizoid Man.' In those days you could pre-listen to an album before buying it. I did this and was, as they say, blown away. My ears saw the light or rather heard something extraordinary. It wasn't called 'metal' back then. All we had was hard rock. The sort as played by Led Zep. This though was nothing like that. This wasn't blues based but it was the first 'heavy metal' song I'd heard. I went home that evening, fiddled about with my pocket money box, pulled out sufficient funds and bought the album.
It was 1969. Forever found under my arm were albums such as Zappa's 'Hot Rats,' Beefheart's 'Trout Mask Replica,' the aforementioned 'Led Zepplin II,' a little known band called 'Touch,' the Fab Fours 'Abbey Road' and then this incredible work of orchestralfolkjazzexperimentation 'In The Court of the Crimson King'. It's jagged metallic beauty juddering the synapses, the elegant, elegiac, melodious sweeping mellotron led pieces and yes, that unbelievably whipped beast of a guitar that could both howl then weep and all from the same man's dexterous fingers - Robert Fripp.
Seeing the band live as I did the following year, aged 16, in the Lyceum, in what seemed a tiny cavern in London, was an experience unrepeatable. The volume the band played at was staggering but what really impressed was the virtuosity of the performers. So unbelievably tight and precise that they were more like a jazz ensemble or chamber quartet than a Rock and Roll band. The fact is, R'nB played but a small part of their make-up, an influence of course - Jimi Hendrix and The Beatles among them - as were Stravinsky, Bartok and Miles Davis but this sound was not only exploratory it was groundbreaking too.
It was this disregard for the accepted norms of popular cultures much loved 'rebel music,' even if the members all said they loved said form, that entranced me. Here was a group of people, admittedly admirers of American music, who delivered something crisp, clean, architectural and very, very European.
If Captain Beefheart, and I would strongly suggest he was, a genius with his ferocious, feral work then Robert Fripp's King Crimson is the European cerebral counterpart. 'Head, Heart and Hips' being his favoured watchword opposed to the good Captain's 'I've had too much to think.'
After that, as the first group fell apart, others came, then went, always with Mister Fripp at the helm. It would be hard for me to say which of the seven albums in a five-year span equalled or surpassed that debut recording. If pressed then I would plump for 'Red.' It was this, the final in a trilogy, that encapsulated that metallic majesty along with Fripp's taut, fractured, visceral guitar work which sets this as a classic in my eyes. That is to neglect praise for 'Islands' an oft overlooked mini-masterpiece.
Never one for outbursts or self-indulgent quips about others in his profession, Mister Fripp looks for intents and purposes like a stereotypical solicitor or accountant. The few Faux Pahs made have been innocuous enough and usually misunderstood. I recall Andy Fraser, the guitarist with Free, getting very hot under the collar following a comment made by the King Crimson guitarist circa 1973. Robert Fripp had suggested that Jimi Hendrix was not a technical (or words to that effect) player implying his talent leapt straight from his soul. It was meant to be, or so I perceived it, a compliment. Backhanded perhaps. Andy jumped to the deceased's defence outraged that anyone dare mock a guitar god. Another quote that I found funny and which resonates with me is Robert's dislike of listening to music in a field which suggested was tantamount to getting dysentery. I concur.
For someone so mild-mannered and courteous the man sure knows how to kick up the proverbial. Conversely, for anyone who has listened to his other ventures, those with Brian Eno for example, reveal a man who has a softer, more reflective side. 'Swastika Girls' springs to mind. The manner in which his guitar sometimes swoops, drifts on white willow wings, before soaring in angelic beatification as he ascends what feels like the steps of heaven is nothing short of breathtaking.
"So, you can set up an orchestra down this end of the railway station playing one particular area, and simultaneously at the other end something completely different going on. And in the middle, they meet, or not, depending." - Robert Fripp
After the split of the 1974 band, following Mister Fripp's memorable and perceptively accurate quote of the music he and they played being that of dinosaurs, came a horrid period of nothingness. The group seemed to have gone the way of so many others, the various members went off to pursue their own careers. Fripp played with Peter Gabriel, the previously mentioned Brian Eno, the wonderfully named Martha and the Muffins, the power punk pop band - Blondie and, of course, David Bowie. It is with the latter where Robert Fripp's work really shone. Cracking with spite, spitting fractured energy, driving a metal thorn into the songs structures.
Surprisingly, coming quite literally out of the blue was King Crimson's return in 1981. Again there was the experimental mix of instruments. This time with Adrian Belew adding for the first time a second guitar along with vocals and lyrics. This was odd in light of the first incarnations desire not to have American voices in the group. It also presented again that desperate seeking of finding new sounds or rather un-predicting the expected. Gamelan meets New Wave via subterranean polyrhythms. Gone was the mellotron replaced by the Roland guitar synthesiser, the chapman stick, a Bill Bruford playing the drums without using his cymbals and the Simmons electronic drum kit. It was effectively New Wave Prog.
That first album by these newbies was 'Discipline.' Like 'Court of' this set the pace and remains one of their best works. Shorter tracks, snappy and instant yet still progressive. Here we had music that was far more accessible than any of the previous made by this band. Again, as with 'Larks Tongues In Aspic,' 'Starless and Bible Black,' and the brilliance of 'Red,' was a trilogy that included 'Discipline,' 'Beat' and 'Three of a Perfect Pair.' For me, the albums lessened in appeal as they went along. Perhaps it was this that hastened the eventual breakup. Perhaps not but break up they did.
Again a silence ensued one I felt slightly miffed and a little morose about. After 'Discipline,' an album that promised and delivered so much, I felt a little let down. Obviously, I cannot comment on the why's and wherefores but as a fan, as any other would understand, the group I followed did not produce material, apart from the initial output, that matched the seventies collectives. This for me was a grave disappointment.
"
"
From 1985 until 1994, near on a decade believing that my beloved Crimson had gone the way of Python's parrot, the silence persisted and then....VROOM. A double trio. Two of everything. Two guitars, two bass players and two drummers....VROOM. The EP, 'VROOM,' was released on 1st November 1994. It was, in reality, a forerunner to the (dare I say it?) awesome 'Thrak.'
"What does THRAK mean? The meaning of THRAK – and I'll give you two definitions – the first one is: a sudden and precise impact moving from direction and commitment in service of an aim. And again, it's a sudden impact moving from direction, intention and commitment in service of an aim. The second definition is: 117 guitars almost hitting the same chord simultaneously. So, the album THRAK, what is it? 56 minutes and 37 seconds of songs and music about love, dying, redemption and mature guys who get erections." - Robert Fripp
And Mister Fripp's rather explicit press release worked extremely well for me, the album gave me a hard-on. It worked. It ticked all the right boxes. Shame it didn't follow on from 'Beat.'
'Thrak' embodied a miraculous combination of the previous incarnation into one. You could hear the majesty of 'Red' given a makeover, the funk of New Wave 'Discipline' chopping through the mist and yes, just a hint of Beatleishness in some of the melodies. It had the usual flex and grind of those alternating rhythms, a desire to insert intelligence where other metal bands thrust glands. It was rather good. So was the 'live' afterbirth...
It was the alarmingly potent and highly avant-garde 'Thakattak' that pummelled all the right horses with experimental ideas for modern music. Fierce, propulsive metal with superior designs for that genre. In reality, it was here, with this live recording that King Crimson breathed its muscular essence, here where the thrill of the audience, of being near the edge, so dangerously close, that the only thing keeping you going is fear of falling over. Mister Fripp's guitar sweeps its gigantic wings over the heads of his colleagues then dusts the broom with silvered droplets. The twin drummers thrash. The bassists crush. Belew and Fripp jag. It was the more extreme experimental side of King Crimson, more adventurous and somehow more fulfilling for it.
It is here when performing live, that the entity we fondly call 'Crimso' or King Crimson rears its princely head and roars into being. It is here, in the moment, when old compositions, like mythological hydra's, are reborn again. Never the same as before, fresh and fledgling yet conversely old and beyond imagining. It is in that moment the beast of KC is at its leviathan best.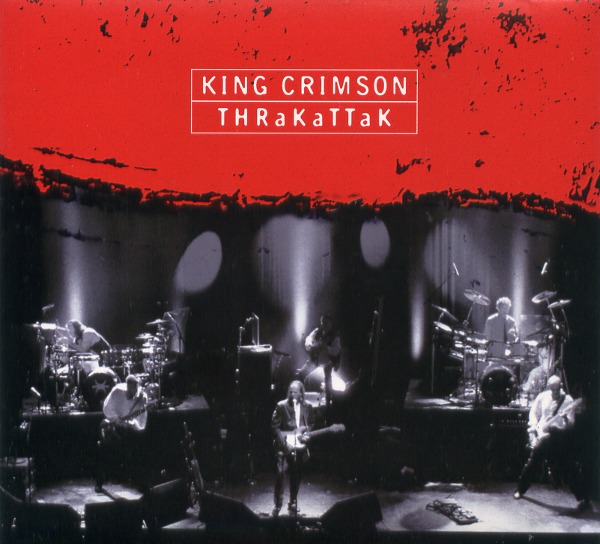 This outrageously brave move heralded more of the same. Further, live recordings which are in all fairness where this band excel. These 'live' albums gave water to the seed. From these sprang the shoots of something new, something metal and bruising. If 'Red' was the culmination of the seventies lineup, 'Discipline' the eighties and 'Thrak' the nineties then 'The Power to Believe,' with its rugged artwork cover, all fifties socialist industrial, was the noughties equivalent. It was without a word of a lie superb.
Someone once cruelly said that King Crimson were nothing but a second rate Black Sabbath. I find that rude in the extreme. I am not a fan of said Sabbath but like Ozzy and Tony Iommi. I dislike the way in which those involved in music seem to feel inclined to personal insults. I have nothing bad to say about Black Sabbath. Why would I? I have much to say about....
King Crimson are a band filled with a desire to innovate their own tradition.
And now they are back. Touring the states. Kicking up a storm with their three drummers acting as front men. Reinventing the King Crimson backlog. No albums containing new material, though. How about a live version gentlemen of all the Larks Tongues, the whole suite? Now wouldn't that be something?
"I'm not really interested in music. Music is just a means of creating a magical state." - Robert Fripp
For now, though, Rock God Robert is off to sit beside other judges on the X factor show where he, like them will fondle his ego as he curtly dismisses another set of young people desperately seeking the fame and fabulous fortunes his legendary name has granted him. Why, isn't that what all Rock Gods do? "I'll give it five"

.
.
.
Russell Cuts the Corn From The Brewers Whiskers.