For those readers of books who have forgotten the lessons taught during English Literature classes, that it takes a great author to write short stories, here we find the perfect example of how complete and perfect a format they are.
Chimamanda Adichie has the ability to capture a novel in as few words as possible, placing perfect prose into short fiction whilst leaving the reader feeling that they have read what amounts to War and Peace.
As natural a story teller as you could find she somehow manages to intimate so much more than she says. It is as if the few words scattered, not at random but with exact precision and deliberation, having done their job in so few pages, leave a sense of narrative far bigger than the tale itself.
Characters buzz with vitality and life. Situations are as real as though you have lived them. Her work always is strong on relationships and these featured here represent that well. She manages to move from humour to horror, from the deeply moving to the prosaic with consummate ease.
I enjoyed they way that one or two stories here display the reaction of when two very different cultures collide. There is a beautiful tale entitled 'On Monday Last Week' which features a Nigerian woman recently moved to the USA to live with her parental pre-selected husband who finds American culture, child raising especially, as odd. "A sated belly gave Americans the luxury of praising themselves for being good parents, as if caring for one's child were an exception rather than the rule."
Think not of this book as one containing a dozen or so stories but rather one that is a veritable library slipped onto too small a shelf. Nothing short of miraculous.
Adichie first came to prominence with Purple Hibiscus followed by the award winning Half a Yellow Sun. She proved with these what a master of story telling she is. With this collection she emphasises the point. "I think of myself as a storyteller, but I would not mind at all if someone were to think of me as a feminist writer... I'm very feminist in the way I look at the world, and that worldview must somehow be part of my work." A must read.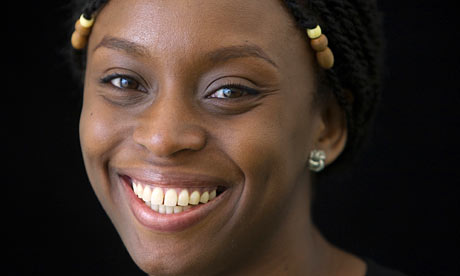 .
.
.
Russell Cuts the Corn From The Brewers Whiskers.