"Andy Warhol is a scream, hang him on my wall."

- David Bowie
"Frank Zappa came to be interviewed for our TV show and I think that after the interview I hated Zappa even more than when it started. I remember when he was so mean to us when the Mothers of Invention played with the Velvet Underground— I think both at the Trip, in L.A., and at the Fillmore in San Francisco. I hated him then and I still don't like him. And he was awfully strange about Moon. I said how great she was, and he said, "Listen, I created her. I invented her." Like, "She's nothing, it's all me." And I mean, if it were my daughter I would be saying, "Gee, she's so smart," but he's taking all the credit. It was peculiar."
"Making money is art, and working is art and good business is the best art."
Exploding
Plastic Inevitable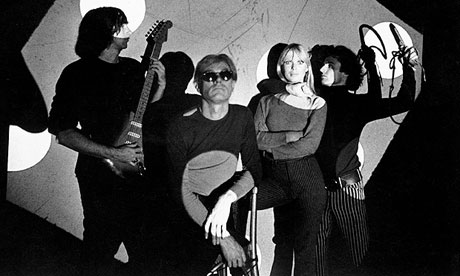 "We needed someone like Andy," John says. "He was a genius for getting publicity. Once we were in Providence to play at the Rhode Island School of Design and they sent a TV newsman to talk to us. Andy did the interview lying on the ground with his head propped up on one arm. There were some studded balls with lights shining on them and when the interviewer asked him why he was on the ground, Andy said, "So I can see the stars better." The interview ended with the TV guy lying flat on his back saying, "Yeah, I see what you mean."

- John Cale
"And then we met Andy. And we're now able to play the kind of stuff we really like to play" - Lou Reed
founded the New York Academy of Art in 1979
I'm the type who'd be happy not going anywhere as long as I was sure I knew exactly what was happening at the places I wasn't going to. I'm the type who'd like to sit home and watch every party that I'm invited to on a monitor in my bedroom.

-Andy Warhol
THE FACTORY


"He was the master of understatement. He'd say 'Try looking over here'. He was very softly spoken and used a funny Polaroid portrait camera. It was an easy environment and not really a pressured situation. He made it very easy

. Andy
was part of our legacy and our future."

-

Debbie Harry
"

I met him a couple of times, but we seldom shared more than platitudes. The first time we saw each other an awkward silence fell till he remarked my bright yellow shoes and started talking enthusiastically. He wanted to be very superficial. And seemingly emotionless, indifferent, just like a dead fish. Lou Reed described him most profoundly when he once told me they should bring a doll of Andy on the market: a doll that you wind up and doesn't do anything. But I managed to observe him well, and that was a helping hand for the film [Basquiat]. … We borrowed his clothes from the museum in Pittsburgh, and they were intact, unwashed. Even the pockets weren't emptied: they contained pancake, white, deadly pale fond de teint which Andy always smeared on his face, a check torn in pieces, someone's address, lots of homeopathic pills and a wig. Andy always wore those silver wigs, but he never admitted it were wigs. One of his hairdressers has told me lately that he had his wigs regularly cut like it was real hair. When the wig was trimmed, he put on another next month as if his hair had grown."
- David Bowie
Andrej Varhola, Jr. was born on August 6, 1928, in Pittsburgh, Pennsylvania. Andy Warhol died in New York City at 6:32 am on February 22, 1987. He was fifty-eight. He had his fifteen minutes.
"

Art

is what you can get away with."
- Andy Warhol
.
.
.
Russell Cuts the Corn From The Brewers Whiskers.