"Prof" Bruce Lacey is the archetypal nutty professor. Born in 1927, a good year for aspidistra's apparently and jars of Quince. Young Bruce set about putting things on a rather uneven keel. Life was full of mysteries, some so hard to explain
that scientists found it either impossible to explain or were forever
revealing new ones. But what was the point of unearthing secret after secret leaving the world barren of all the inexplicable bits? Why, damn it all, the world needs one or two crazy things for without them living becomes as mundane as the life of a three sided triangle. Why not have one with four sides or, better still, knife throwing robots. Makes the day fly by doesn't it? Bruce Lacey? Barmy as a bag of frogs.
For those of you who have seen The Beatles film HELP, you may recall the bit when George plays sitar and an odd looking gent plays flute. It was on the John Lennon song, 'Norwegian Wood?' Well, that was Bruce doing what Bruce does so well - living among us but not really with us - if you know what I mean. Little wonder really that other oddballs such as the Bonzo's, Viv Stanshall especially, had such an affection for Bruce. He was, and remains as mad as them. Mad as a March hare but with more zing, a little more bounce.
And the gadgets? Seriously daft but sidesplittingly so and rather creative to boot. (Bring your own feet)
Having completed his National Service, splashing about a bit with the Royal Navy, Bruce joined another British Institution, the Avant Garde where, armed with bits of tat and machine parts, he began his sojourn among the weird, the wonderful and the sometimes downright bonkers. In many respects, Bruce is the missing link between Gilbert and George and a night in a lunatic asylum.
He didn't just arrive fully formed with eyes crossed, foaming at the old north and south with arms trapped in a white, leather strapped restraint, no madness of this sort takes a deal of (h)education. Bruce studied art at the Royal College of Arts in the 1950's. passing his (h)exams with due applause and combustibles.
Bruce launched himself into the sixties scene where he attended many a happening. His sense of the absurd to the fore and with a wardrobe full of oddities Bruce was welcomed into that defining decade in the way Anaglypta wallpaper had appealed to another generation. He was a hit. And perhaps he should have been. Cricket bats primed and aimed.
As a lifelong hypochondriac Bruce, now in his eighties is as fit as a butchers dog but leaves the chewing of bones to K9 who is fit as a fiddle but cannot play one. The greybeards among you may recall the artwork Bruce produced for the Fairport Convention album, "What We Did on our Holidays" which featured some of the said gents creations. The album even had a song by Ashley Hutchings that was dedicated to Bruce but also used his robotics to make noise in place of a middle eight. This began a new musical motif known as 'the muddle (h)eight.' A rather big smash with China who dropped the plate.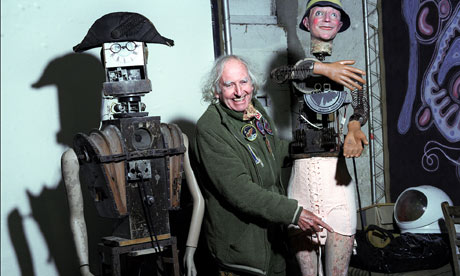 There are those who suggest Bruce should be certified. I think he should be knighted. If anyone needs certifying surely it is the current government who seem as deranged as the last government. Arise Sir Bruce and please create a new cabinet to lead this green and pleasant land to a better time. Halleluiah and Amen. May the gods all bless his saintly, starched linens.


.
.
.
Russell Cuts the Corn From The Brewers Whiskers.