A prickly Northern man with vision. A
s working class as stout.
He, along with his band The Fall, are one of the renegades of music.
Like, Zappa.
Like, Beefheart.
Like, Bjork.
As original as it is possible to get. Abrasive. Caustic. Outspoken and apparently prone to outbursts of verbal vitriol.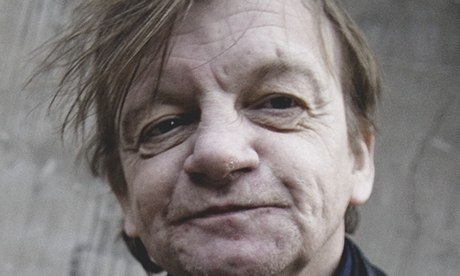 The Fall. Now there is a name to conjure with. A name that is synonymous with its founding member and its long time 'engine room' Mark. E. Smith.
I have always liked bands or artists who push the envelope. These, The Fall, are d
istinctly British and very, very dark at times but still, to my ears, very listenable.
The thing is though, no matter how man times we refer to the collective, the band is very much the brainchild of that man. Mark Edward Smith.
Mark. E. Smith was born in Salford, Manchester on March 5th 1957. His first job as a Docker may have influenced his music or it may not but for sure he is very much steeped in the old British tradition of the 'working class'.
His musical influences are manifold and include The Velvet Underground, Van Der Graaf Generator and Can but go way beyond them.
He formed The Fall in 1976 with this manifesto "to have raw music with really weird lyrics over it". To that end he has succeeded. Some would say, John Peel for one bless him, brilliantly so.
Throughout the history of the band Smith has proven to be a caustic and formidable song writer and an equally caustic and formidable band leader. Smith is notorious for sacking members of the band at the drop of a hat and even sacking the whole band. It is difficult if not impossible to establish exactly how many band members there have been but safe to say near on 100. In total, there have been 50 different band line ups.
Excuse me, weren't you in the Fall?
"The Fall lend them to obsession. In John Peel's Record Box - which contained the late DJ's favourite records - Fall records had an entire section to themselves. Peel called them the Mighty Fall: "the band against which all others are judged". More than 25 years after the band first formed, their audiences still include fans who don't follow other bands. Smith's inspired, social sci-fi songs are revered by everyone from comedians Frank Skinner and Stewart Lee to the designer Calvin Klein, artist Grayson Perry, and authors Irvine Welsh and Philip K Dick. Musicians and music critics love them, too: David Bowie, Bo Diddley, Thom Yorke and Alex Kapranos all claim to be fans, and the band's 26th, 'Fall Heads Roll,' won a five-star review in the Guardian for its "paint-stripping riffs, hail of one-liners, withering put-downs and bewildering images"."
the above is from an article in the Guardian by Dave Simpson below is a drawing by James Rowley
Mark.E.Smith and The Fall have produced some of the most uncompromising music ever committed to disc. Always seeking new sounds. Always attempting fresh challenges.
Without a doubt one the most important bands to have come out of the British scene.
Rugged, rough riffs, splintered guitar chords propel the music over which the voice and words of Smith, often obscure, like coded rants, can be heard repeated again and again with occasional shouts and whoops littered like verbal splashes of paint that add colour and tone. Grinding. Gruff.
It is both uncompromising but also accessible. This paradox forms the basis of The Falls appeal, that and the never swerving conviction to never sell themselves short, never take the easy path when the cliff edge is more beautiful. There music can sound rockabilly mixed with heavy riffs but then again it can be techno and country.
Their influence on others has been immense. From Nick Cave to Sonic Youth, from The Happy Mondays to Pavement, all owe a debt of thanks.
In recent years the ever alternating line up has remained firm. During this period, 2008 to 2013, the current band have produced some of the groups best music. They do not look like giving up just yet.
The album titles are exciting in them selves and underline their status as an underground band (whatever one of those is.). I think they, along with any such band are folk. By that I mean they are very much of themselves and of the people. They are neither Rock nor Pop
I hope that they, along with Smith, last forever.
.
.
Russell Cuts the Corn From The Brewers Whiskers.