There is a stark fluidity about this artists work, a feeling of being physically stretched, flesh over bone, mind over matter, dream over reality. An inconsistency that encapsulates the surreal world remarkably well. I also get a sense of isolation, of vast space, limitless and yet somehow reducing the size of being to tiny parts, to an almost insignificance as though we, or perhaps the artist, has these fears and phobias about being a small and overlooked flesh thing in a huge world filled with those far more noticeable than her.
The art of animals defaces structure. The insanity of hominids deconstructs nature. A clumsy relationship exists between the natural world and the immatteria. It is where another reality exists; factual and beyond any shade of doubt. Its existence is proven by our own reality. Whilst we live, breathe and do the things humans do so the immateria, shutters down during the sleeping hours, blossoms into being.
Fractures occur only when one reality bleeds into the other when the belief of anything other than proven scientific fact weeps into waking life followed swiftly by psychosis. When it does madness dances on the moon, streetcars rattle up the sides of the house, insanity collides with sanity. The two worlds exist in perfect harmony as long as they stay apart.
Here, on the flat waft and weave of the canvas, Bridget Bate Tichenor collected her para-realism, her dreams and nightmares brushed vividly to life with vexing colours; in subtle tones for all to see and share that experience. Call it surrealism if you like. Dali was forever cock of the hoop but not the only king of the hill. Tichenor was his equal, his female counterpart. Even if the fear of erectile dysfunction did not plague her other world there were fears enough of her own to capture.
Egg shapes? Fertility? Desire?Want? Need?
Pale faces, large eyes, distilled anguish. Childhood phobias of memories cast away?
Masked faces touching humped back beasts. Feral shapes. Man-child, wild-thing - nature and innocence deformed, corrupted?
There is magic here, A wave of translucent energy that conduit connects nature to the elements beyond, a shared perspective born of blood, soil and stars.
I could gaze an age at these works, swimming on the edges of somewhere distant, somewhere else. They are a magnificent achievement
.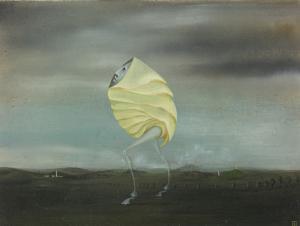 Some called her B.B.T. Others simply Bridget. Her full name was
Bridget Pamela Arkwright Bate. She was born in Paris in 1917. She was British but shed that nationality when she moved to Mexico and adopted it as her home. It was Edward James, a British surrealist artist who introduced her to the South American borderland country. It was an introduction she was forever happy with.
Her art was, as previously stated, remarkable. She apparently owed much to the 16th-century tempera formulas as taught her by mentor Paul Cadmus whom she meet and worked within 1945. She also absorbed Mesoamerican mythology which acted as an influence reflecting alchemy and occult religious references. Her work was to her a spiritual exultation as much as it was creative process.
She died in Mexico in 1990 five years after her son. She was 72.
.
.
Russell Cuts the Corn From The Brewers Whiskers then waxes his eyebrows